A Story of Innovation and Problem Solving – A Community by Connects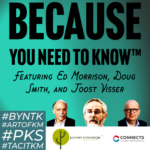 Podcast: Play in new window | Download (Duration: 32:25 — 29.7MB) | Embed
---
Joost Visser
There's an African proverb that says it takes a whole village to raise a child. Likewise, it takes a whole community to build a successful business that can grow and contribute to a healthy economy, people and planet.
This is the motto of CONNECTS/TIAO, a specialist in the enabling technology and collaborative capabilities needed for business engagement and collaboration co-founded by Joost in 2016.
Joost started his career in fast moving consumer goods (FMCG) where he developed a broad expertise in the areas of sales, marketing, strategy development and general management in executive roles in various countries around the world.
Since 2006 Joost has been helping small, medium and large organizations in private, public and non-profit sectors to transform their organizations to become more efficient and effective and more sustainable.
---
Doug Smith
Doug Smith is the architect of Performance-Driven Change and Cohort Approach to scaling change. He is a former McKinsey & Company partner and author of books ranging from 19th century African history to the birth of the information age to managing change to the classic text about teams to a moral philosophy for the 21st century. Performance-Driven Change, like Strategic Doing, is grounded in core principles required to address complex problems and collaborations. The tools and methods have been used to drive both performance (real results) and change (new capabilities) across more than sixty different industries and fields – at both the enterprise as well as entire field level.
---
Ed Morrison
Ed Morrison is co-CEO of Strategic Doing Networks and Senior Research Fellow of The Conference Board. He developed Strategic Doing, a discipline to accelerate collaboration and innovation in open, loosely connected networks. He is co-author of the book, Strategic Doing: Ten Skills for Agile Leadership (Wiley, 2019).
Ed started his career in Washington, DC, where he was legislative assistant to an Ohio congressman, staff attorney in the Office of Policy Planning for the Federal Trade Commission, and a staff member for the Senate Democratic Policy Committee. In that role, he managed floor legislation involving tax, trade, and competitiveness.
He then joined a corporate strategy consulting firm, where he conducted strategy studies for large companies like Ford, Volvo, and General Electric. After this work, Ed consulted with communities and regions on how to tackle the complex challenges of building a prosperous economy in an era of globalization. Frustrated with existing approaches to these issues, more than 25 years ago he began working on Strategic Doing. Over 2,000 practitioners have taken the basic course, and the discipline, which can be taught in multiple languages, is spreading globally.
Ed began his academic career in 2003 as director of the Center for Regional Economic Issues at Case Western Reserve University. In 2005, he moved to Purdue University, where he was a member of the professional staff at the Purdue Center for Regional Development. In 2016, he founded the Agile Strategy Lab at Purdue. In 2020, he founded the Agile Strategy Lab at the University of North Alabama. He received his B.A. degree cum laude with Honors from Yale University and both his J.D and M.B.A. degrees from the University of Virginia. He completed his Ph.D. in economics at the University of the Sunshine Coast (Australia). His dissertation details his journey to develop and deploy Strategic Doing.