Build an Organization of Entrepreneurs with Stas Balanevsky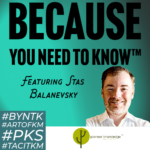 Podcast: Play in new window | Download (Duration: 38:03 — 34.9MB) | Embed
https://www.eosworldwide.com/stas-balanevsky
Stas Balanevsky

As a seasoned entrepreneur and Certified EOS Implementer, Stas Balanevsky has a
unique understanding of the challenges and opportunities faced by business owners.
With over 30 years of experience across diverse industries, including healthcare, digital
marketing and media, sporting goods, and international finance, Stas has developed a
well-rounded skillset and a passion for helping others succeed.

Starting his first business at just 13 years old, Stas has nurtured a lifelong love for
entrepreneurship and the drive to push others to achieve their goals. In addition to his
work as a Certified EOS Implementer, Stas is a highly sought-after speaker, a member
of the Western New York Vistage trusted advisor group, an Entrepreneurial Leap
Collaborator and serves on the board of the Holimont Ski Club.

When Stas is not working, he can be found on the slopes of said Holimont Ski Resort or
on the water, enjoying his passions for skiing and sailing. He is married with two adult
children and loves traveling the globe with his family and friends.

Stas brings a unique combination of expertise, passion, and entrepreneurial spirit to his
work, making him a valuable asset to any organization seeking to achieve its goals and
reach new heights.